From family summers on Long Beach Island to happily ever after overlooking Barnegat Bay, Amy and Domenick's journey to "I Do" led them to Mallard Island Yacht Club, where they found all the thrills and luxury of a destination wedding right here at the Jersey Shore.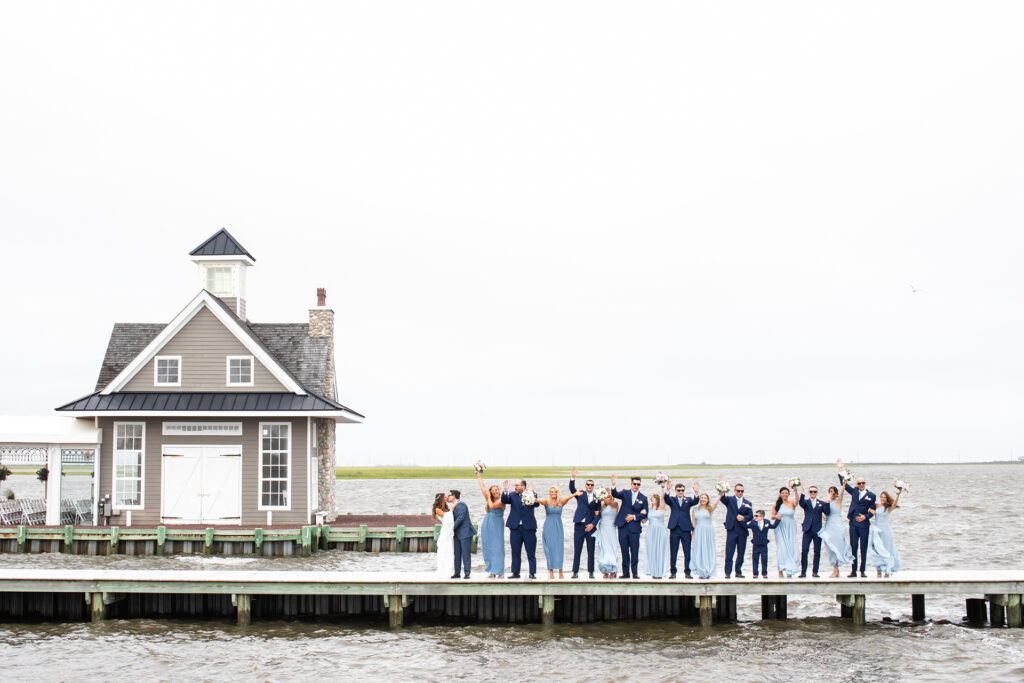 What made you choose Mallard Island Yacht Club as your wedding venue?
First of all, Mallard Island Yacht Club was the first and only wedding venue my husband and I visited – that's how much we fell in love with it as soon as we walked in. When we got engaged, we immediately knew we wanted a Long Beach Island wedding. My family has been coming down to the island for vacation pretty much since I was born, and when my husband and I started dating, he became part of that tradition. So the location alone was a special place for both of us.
Mallard was perfect because it has everything we could have dreamed of – our own private beach, a dock, a waterfront ceremony space in the boathouse chapel (covered, so that we could get married outside rain or shine, which was a huge plus and must for me!), beautiful photo ops everywhere we looked, on-site accommodations for our wedding party and family, and, not to mention, the incredible, jaw-dropping bridal penthouse. It was like having a destination wedding at the Jersey Shore. Overall, Mallard offered everything we were looking for, so there was no need to look anywhere else.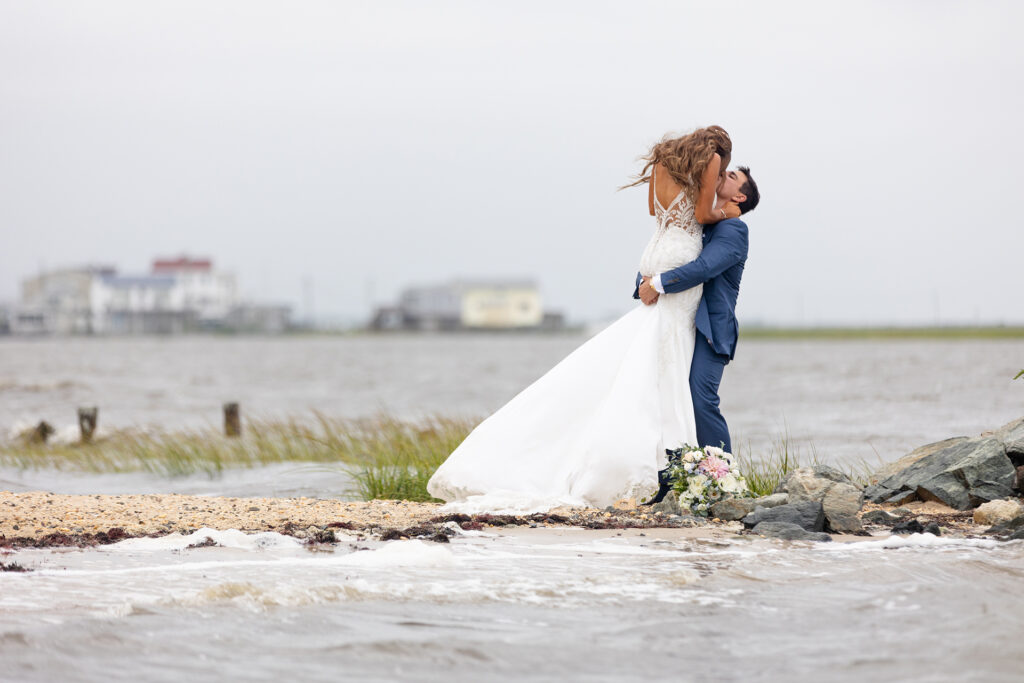 What surprised you the most about the venue?
I think when we first saw the bridal penthouse, we were all stunned at how beautiful and big it was. I was also surprised by how much more the venue has to offer beyond the grounds alone. The staff helped us not only with menu planning, but with everything in general – from vendor recommendations to any issues and questions that arose before the big day. We learned we were not just renting out the yacht club. When you book with Mallard, you get so much more!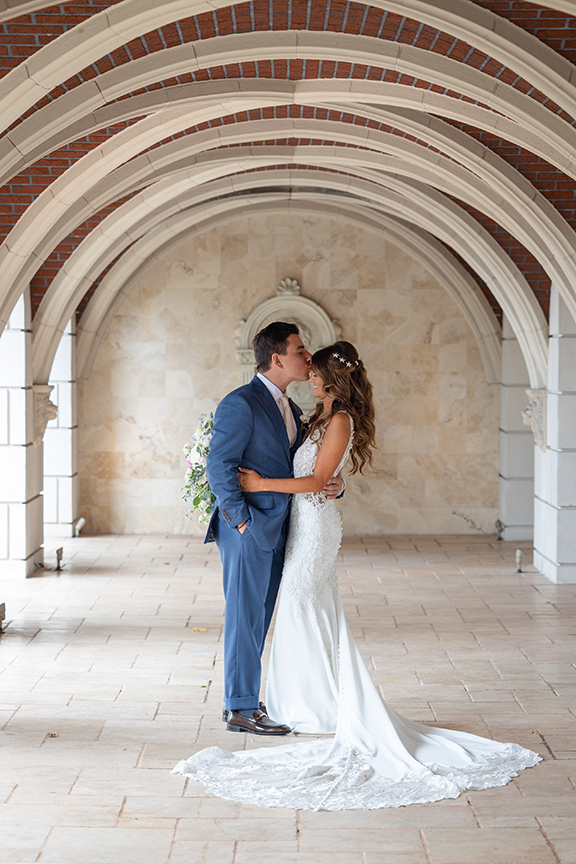 Any favorite or special moments of the day that stands out to you the most?
The entire day was truly special, but some of our favorite moments were:
Mimosas with my bridal party and mom while getting ready in the bridal suite salon
The first look with my husband, captured under the beautiful sanctuary archway
Our dog Riley "chirping" during the ceremony as we were saying "I do"
The butterfly that came to visit
The sun coming out as I walked down the aisle
Our huge private cocktail hour (filled with so much delicious food)
Our first dance on the clouds, then bursting right into dancing with all of our family and friends surrounding us
Twilight photos in the boathouse chapel
The most wildly fun afterparty (if you were there, you just know), ending in a late-night hangout by the fire pit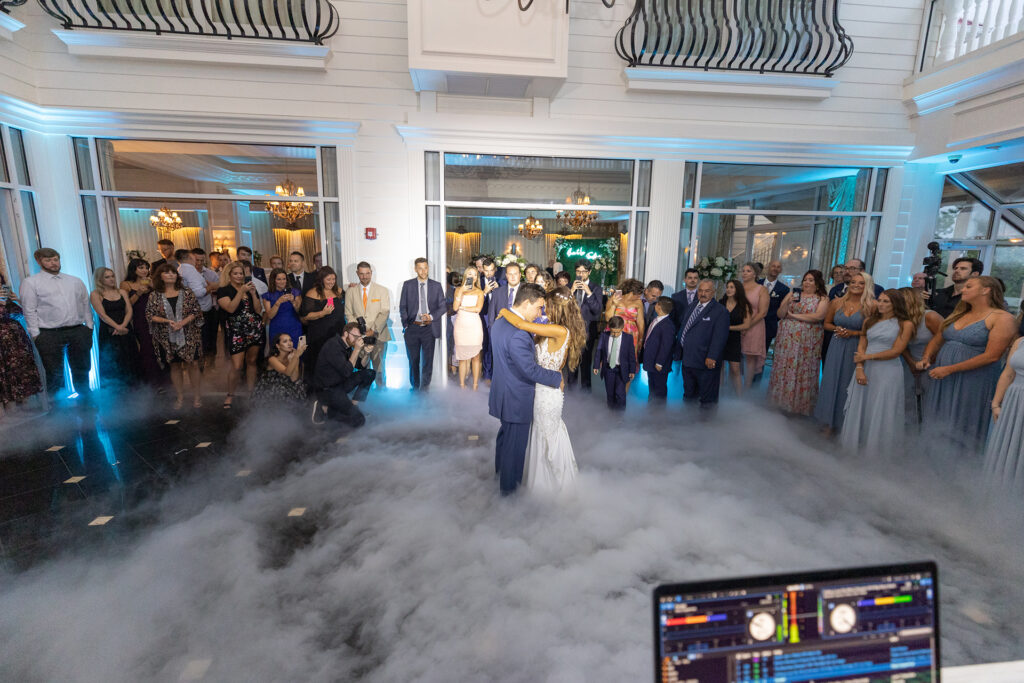 How would you describe your experience with the Merri-Makers staff/team?
The experience with the Merri-Makers staff/team was amazing to say the least. As soon as we walked in, we were treated like royalty. For such a stressful day, my husband and I barely had any stress at all. Gianna, our wedding coordinator, was another huge reason we chose Mallard. She truly connected with us and, later, with our families and friends. Anything we needed, she was ready to answer the question, help solve a problem or offer up an idea. She recommended the best of the best vendors all around, and I had the most easy-going wedding because she and the Merri-Makers staff had it all covered. For example, as we got closer to the day, I was super stressed about the weather. Gianna really calmed me down and told me she and her staff would handle it no matter what – and they truly did! I really appreciated that validation and how she helped me to relax.
We actually stayed the entire weekend at Mallard. We opted to have our rehearsal dinner there, and it was put together perfectly. Our overnight manager, Lou-Ann, made sure we had an amazing time both nights, from having the fire pit ready to go to making sure we were all comfortable in general. My bridal attendant, Lauren, was on it all day for me. Anything I needed, any small mishap, she handled it. I couldn't get over how well ALL of the staff treated us, and it didn't go unnoticed by our guests, either. My husband's family, my own family, and the wedding party all commented on how accommodating everyone was. The Merri-Makers staff are a phenomenal group of professionals who made our day feel like a dream. They also put together a fabulous cocktail hour and main course. If you can think of it, they can do it! Guests raved about their food, and I had a lot of "foodies" in attendance, including my own husband.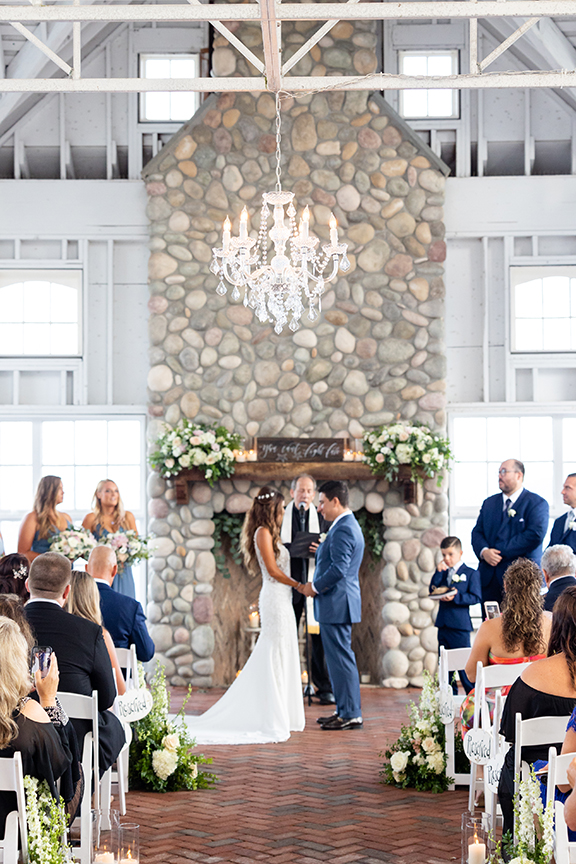 Any advice for brides looking at this venue?
My advice for any bride is even if you are just considering it, go take a look at the venue and meet the staff. See everything you're going to be offered because it is not just the beautiful location and tasty food, but a group of people who truly care about making your wedding day perfect. Everything is in one place, and that alone was a huge stress reliever for me. If you're looking for a fairytale Jersey Shore destination wedding, Mallard has it all!
Whether you're newly engaged or already vetting venues, we invite you to take Amy's excellent advice and pay Mallard Island Yacht Club a visit. Merri-Makers is here to show you everything this exquisite estate has to offer and to help you plan your perfect wedding. Explore the venue online or contact us to schedule your own personal tour.