We are very excited to share that Merri-Makers has received multiple accolades for the 2016-2017 wedding season.

Merri-Makers has been selected as a 2017 winner in The Knot Best of Weddings, an award representing the highest-rated wedding professionals as reviewed by real couples, their families and wedding guests on The Knot.
In 2017, only 2% of the 300,000 local wedding professionals listed on TheKnot.com have received this distinguished accolade. To determine the winners, The Knot assessed almost one million reviews across the various vendor categories—venues, musicians, florists, photographers, wedding caterers and more. The winners represent the best of the best for wedding professionals that a bride or groom would want to consider in order to inspire, plan and book their own unique wedding.

Merri-Makers has also been chosen by Brides.com as one of BRIDES Best Venues in America for 2017. The Bonnet Island Estate is featured in the current issue—February/March 2017—of BRIDES. The magazine talked to 1,967 recent brides in order to find the most spectacular reception sites from coast to coast that offers stellar views, creative cuisine, and above-and-beyond service.
"The staff took care of everything from ordering pizza to the after-party to delivering the vendor tips," said Megan, a bride discussing Bonnet Island Estate to the magazine. "They let me enjoy our day."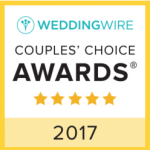 Lastly, Merri-Makers was named a 2017 Couples' Choice Award Winner. We are among the top five percent of wedding professionals on WeddingWire who demonstrate excellence in quality, service, responsiveness, and professionalism. This award honors the exemplary work our team performed in 2016 and the highly regarded reputation we have established with our clients.
Thank you to our clients for taking the time to share their experiences and choosing us for their special day.
We also want to thank our staff, The Knot, WeddingWire, and BRIDES for making these awards possible.